Core Team
JAYANT MAHESHWARI (Director & CEO)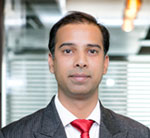 He believes in "Give your dreams all you've got and you'll be amazed at the energy that comes out of you". Surmanja infotech is the resultant. An IT Engineer from Malaviya National Institute of Technology, Jaipur and a Management Graduate from S P Jain, Dubai/Singapore, Jayant is a hearty mix of business and hard core technology. He has served at many reputed organizations, Computer Sciences Corporations, Falls Church, Virginia, USA and Max Retail LLC, Dubai, UAE. Having worked across the globe especially in Seattle (WA) USA, London UK, Dubai UAE and Singapore. '9 years in 9 cities', as he puts it, he has experience of the domestic as well as International market which is very critical as catering to offshore needs for Indian companies going global is one of the key revenue pointers.
CHHAVI MAHESHWARI (Director & CFO)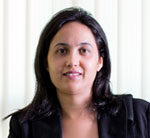 A Chartered Ajccountant by profession, she manages finance, accounting, taxation & compliance functions for Surmanja infotech. She brings in experience of over 9 years in both overseas & national banks, chartered firms, construction & IT companies wherein her roles include financial controlling, budgeting, planning and analysis, management /statutory reporting, handling audits/strategic deals/projects & system implementation. Her previous experiences include working in core finance at Emirates National Bank, Dubai UAE and auditing at Kotak Mahindra Bank, Mumbai India.
NARENDRA KUMAR AGARWAL (Managing Director)
The difference between the impossible and the possible lies in a person's determination."- This determination coupled with flair to take up challenges has been the pillar stones of Mr. N.K. Agarwal's vision to make Surmanja infotech grow in fast moving IT domain.
PULKIT SONI – BUSINESS DEVELOPMENT MANAGER
His instinctive research skills, bundled with expertise in identifying opportunities & closing leads aid him ably in the domain to handle & grow varied clients. A graduate in IT with MBA in marketing gives him a broad perspective to absorb & understand different business patterns.
NAGENDRA TRIVEDI – PRODUCT DEVELOPMENT MANAGER
He is a graduate in engineering (IT) backed with over 4 years of experience in IT product management, having with in-depth knowledge of new business processes in IT domain. He is proficient in different phases of Requirements Management, including gathering, analyzing, detailing and tracking requirements.
RAJEEV LOCHAN – OPERATIONS HEAD
Enriched with over 2 years of experience in software selling & client management, ABC has done his post graduation in commerce with MBA in marketing & worked closely with corporate marketing to design and execute pre-agreed strategies built around developing new business growth.
PANKAJ SHARMA – HEAD OF ANALYTICS
He is a graduate in engineering (IT) with in- depth knowledge of hard core IT techniques & understanding of software. He is a creative & tenacious problem solver with good experience in big data analysis.
PAWAN AGARWAL – SALES HEAD
He has a Masters Degree in IT and over 3 years experience in IT product Sales. He is very keen on his inter personal skills and rapport building with the clients making sure that his team understands what the client wants.